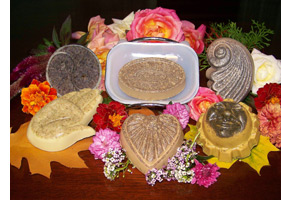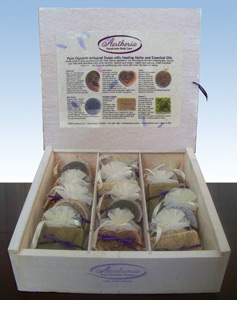 Pure Handmade Artisan Glycerin Soaps with Healing Herbs & Precious Essential Oils
Since proper cleansing is essential to healthy skin, Aestheria soaps are designed to do more than just lather. The purifying and healing properties of the herbs and other natural ingredients will gently exfoliate and remove impurities from your skin. These glycerin and vegetable derived natural soaps contain no harsh ingredients.
Each bar of Aestheria Handmade Soap presents a joyful opportunity to make the most of the bath or shower ritual.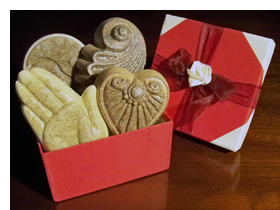 Handcrafted in small batches with the finest natural ingredients, our meticulously blended cleansing bars nourish your skin while providing many other benefits. Awaken your senses, inspire your journey, evoke cherished memories, and enjoy an uplifting day with these gifts from the heart of nature itself. All our soaps are packaged in attractive gift sets with our exclusive "Soap in a Sack" (lather right through the pouch and hang to dry).
Delicious varieties like Grandma's Cabinet, Love's Divine, Marine Life, Blue Heaven and Green Tea Body Bar, Aestheria soaps are as beautiful to look at as they are to use.
Inquire about custom gift boxes and store displays.