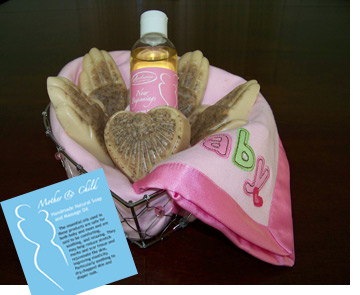 Mother & Child Gift Basket - Handmade Natural Soap and Massage Oil
The essential oils used in these products are safe for both baby and mom and are said to be comforting, soothing, and relaxing. In addition, they may help reduce the appearance of stretch marks and scar tissue and rejuvenate the skin, improving elasticity. Particularly soothing to dry, chapped skin and diaper rash, the essential oils in this set include precious helichrysum, rose and jasmine, and chamomile, lavender, and geranium rose. This soap is natural and detergent free, perfectly mild for baby and mom.
Please contact me to custom order this gift set, and specify "mother and child gift" in the subject line. The colors and hang tag can be customized pink, blue or mint green.